Dhrupad/Naad Yoga: Konzert und Workshop mit Gundecha Brothers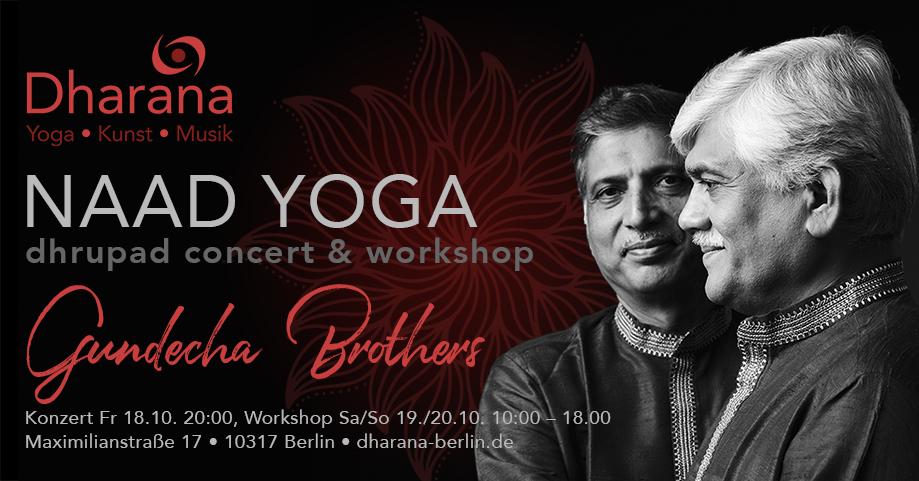 Konzert
18.10.2019, 20.00 Uhr
Workshop
19. und 20.10.2019, 10.00 Uhr bis 18.00 Uhr
Dhrupad ist die älteste und spirituellste Form der klassischen indischen Raag-Musik. Die Tradition fußt auf den Texten des Samaveda und wird auch Naad Yoga, Yoga des Klangs, genannt.
Die Sänger Gundecha Brothers gehören zu den weltweit führenden Künstlern dieser Tradition. Egal ob Musiker, Yogi oder einfach neugierig: Ergreife die einzigartige Möglichkeit, unter Anleitung von Weltklasse-Künstlern diese faszinierende Musik zu entdecken. Der Unterricht findet in größeren und kleineren Gruppen statt und umfasst Grundlagen, Übungen für die tägliche Praxis sowie die konzentrierte Arbeit an einigen Kompositionen ausgewählter Raags.
Gebühren: Konzert 15 / 9 EUR, Workshop 2 Tage 180 EUR, 1 Tag 100 EUR, Konzert frei bei voller Workshop-Teilnahme
Anmeldung erforderlich bis zum 15.09.2019 unter info@dharana-berlin.de oder +49171 2031655 (Steffen) – begrenzte
Teilnehmerzahl!
Dhrupad is the most spiritual form of classical indian raag-music. Seeking to induce the experience of life energy in both artist and listener, its practise is also called Nada Yoga, the Yoga of sound.
The singers Gundecha Brothers are among the leading exponents of this ancient style of music worldwide, so joining the workshop is a unique opportunity for everyone: musicians, yogis, or those just keen to open themselves to this great music.
Dharana Berlin is a centre for yoga, arts and music, in Berlin-Lichtenberg – close to Berlin's hotspots.
Fees: Concert: 15 / 9 EUR. Workshop: 2 days 180 EUR, 1 day 100 EUR. The concert is free for full-workshop participants.
Workshop Registration: please register by Sept. 15th, info@dharana-berlin.de or +49 (0) 171 2031655 (Steffen). The number of participants is limited!
On Pakhawaj: Sharaj Deep Singh
Sharaj started learning tabla when he was very young. He learnt the Farrukhabad style of tabla playing under the guidance of Shri Rabindranath das and later learnt Banaras style of tabla playing under Pandit Shubh Maharaj. Presently he is learning Pakhawaj under the guidance of Pandit Mohan Shyam Sharma. Sharaj has performed in India and across Europe in many different music congregations. Presently he is teaching and performing and is based in Germany.
mehr Info: www.dharana-berlin.de, info@dharana-berlin.de oder +49171 2031655 (Steffen)